Around since ages, this cacti plant thrives in tropical environment. Aloe Vera gel has always been used for food as well as medicinal purposes. The earliest written record of the use of this plant dates back to the 16th century B.C. in Egypt.
In recent times its medicinal properties have gained a lot of popularity and because it constitutes of more than 75 nutrients, it was referred to as a "the plant of immortality" in Egypt.
Aloe Vera can be grown easily in the house as a potted plant. Not only does it look beautiful and is used as an ornamental plant, but the stems can be cut to take out the gel for local application on skin and hair as well.
Nowadays one will find aloe vera gel included in most of the moisturizers, sunscreens, creams, cosmetics and burn healing gels that can be bought over the counter.
Though there is no concrete scientific backing to prove the benefits of use of aloe vera gel, it is still considered to be a wonder plant, bringing about beautiful results if used regularly for skin and hair nourishment. Enumerating below are some of the ways in which the gel is beneficial for our hair and skin and how we can incorporate aloe gel in our daily hair and skin care routine.
Benefits of Aloe Vera for Skin
Protects from ultraviolet rays: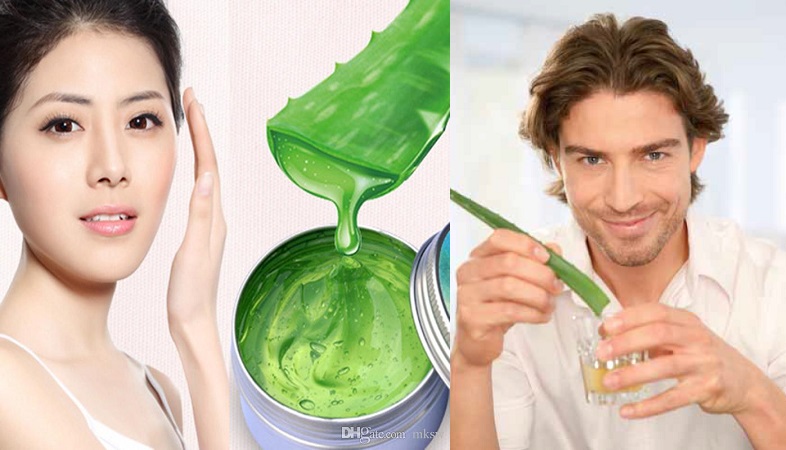 Studies have been conducted on the effectiveness of Aloe Vera gel application on the skin to protect it from the harmful aging effects of the ultra violet rays of the sun. It has been found that application of gel from baby shoots that are less than one month old is more effective in blocking the ultra violet rays than the older shoot. However, in general gel application has been found to curtail photo-aging.
Relieves pain from sunburn: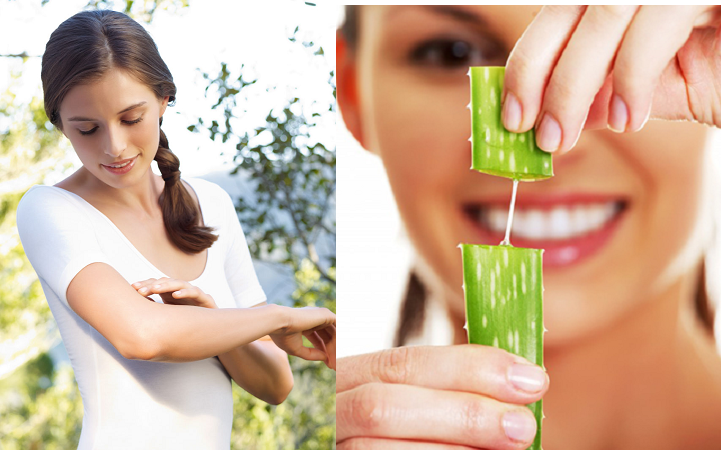 The cooling and anti- inflammatory properties in aloe vera help in reducing pain due to sunburn. Its anti oxidants and nutrients form a protective layer on the skin, leaving it hydrated and thus fastening the healing process of sunburnt skin.
Helps with second degree burn injury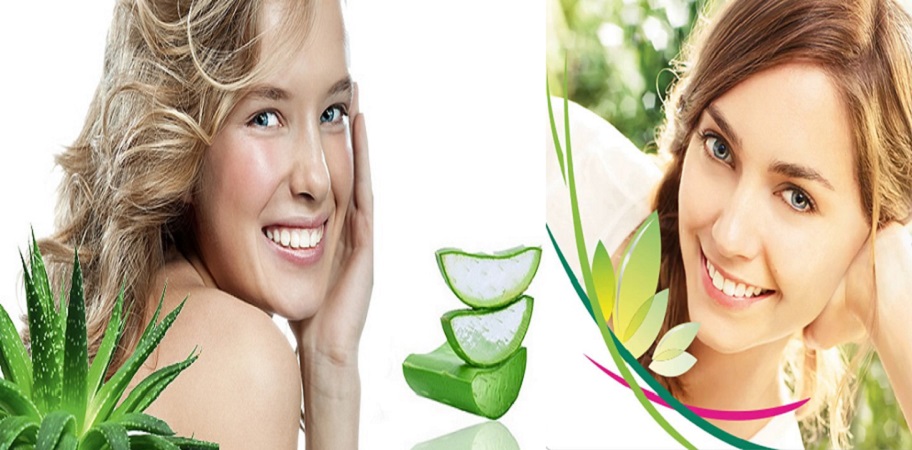 The soothing and anti inflammatory properties of aloe Vera gel provide the same relief to patients of second degree burns when applied topically as with applying 1% of silver sulfadiazine.
It not only helps in providing quicker pain relief, but the healing process has also been observed to be faster. In addition, using aloe Vera for healing burn injuries is cheaper than buying medication over the counter.
Reduces acne and blemishes: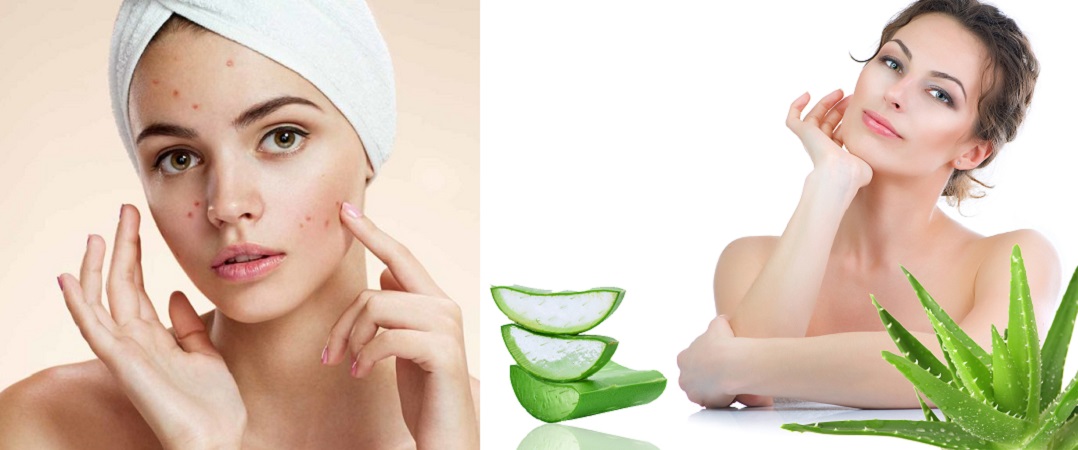 The anti-microbial and anti inflammatory properties of aloe vera help in reducing acne to a great extent. When the aloe gel is applied mixed with a few drops of lemon juice, it helps in reducing the blemishes and dark spots left behind from acne.
Heals wounds: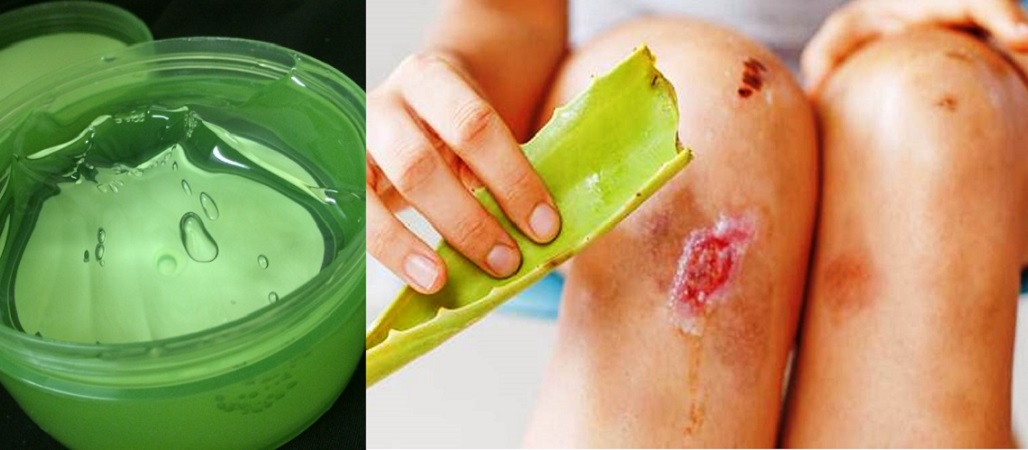 Aloe Vera gel, with its moisturizing, anti inflammatory properties, combined with its compound called glucomannan is very effective in healing cuts, bruises and wounds on the skin. Glucomannan improves skin cell growth, which in turn quickens healing. Local application helps in reducing pain and the gel helps in keeping the affected area moisturized, thus fastening the healing process.
Gel application has also been known to help patients suffering from psoriasis in curbing drying, cracking and bleeding of affected skin patches.
Improves skin elasticity: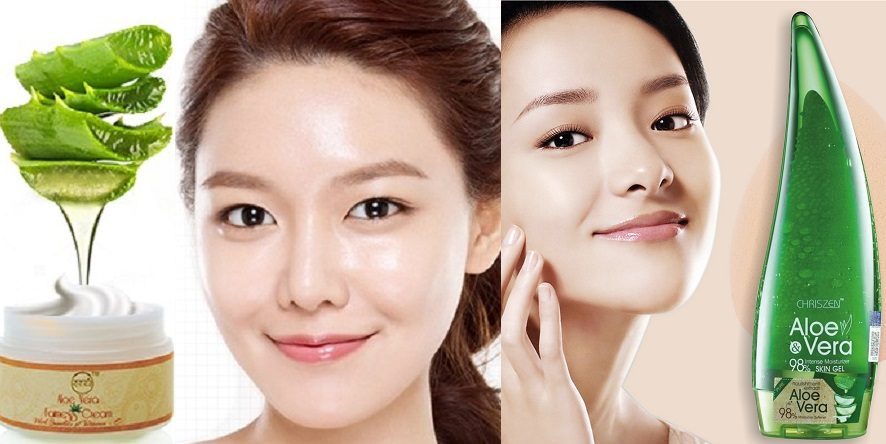 Collagen is very important for maintaining the elasticity and firmness of the skin.
Glucomannan present in aloe gel helps the skin in producing more collagen, which in turn leads to a younger looking skin owing to increased firmness and elasticity.
Collagen also helps people suffering from psoriasis as increased collagen in the skin reduces the scaly formation on skin caused due to psoriasis.
Delays signs of aging: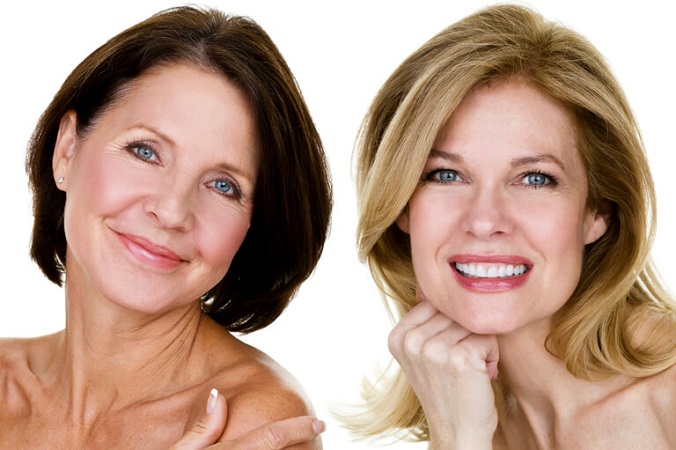 As we grow older, wrinkles and fine lines start appearing. It is a natural process that takes place if we do not take adequate care of our skin. Applying aloe gel on the skin daily helps in moisturizing and improving the elasticity of the skin, thus ridding the skin of these wrinkles and fine lines. This is very simple remedy to aging gracefully and beautifully.
Natural moisturizer:


It is very difficult to find a non- greasy moisturizer, which hydrates the skin but does not leave behind the icky greasy feeling on the skin. Aloe Vera gel has high water content and is rich in anti oxidants and nutrients. When rubbed, the gel gets quickly absorbed in the skin, forming a protective layer and disappearing within the skin in minutes of application.
As such there are no known side effects of topical application of aloe vera gel, but it is still advisable to conduct a patch test on the skin. You must wait for 24 hours at least to be sure that your skin does not react adversely, before you start using it regularly.
Aloe Vera gel can be applied generously to the affected areas on the skin thrice a day without any worries for relief from pain, itching and inflammation.
For Face Packs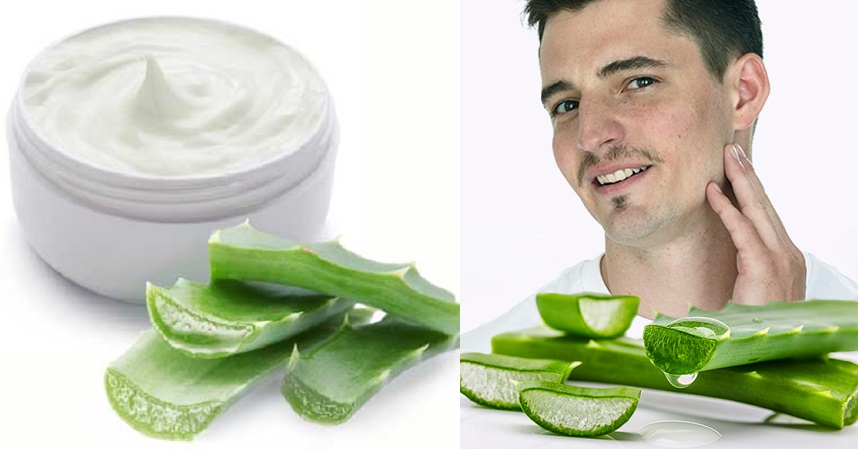 Aloe Vera can be used in combination with other ingredients to make face packs at home for a beautiful skin.
For dry skin treatment: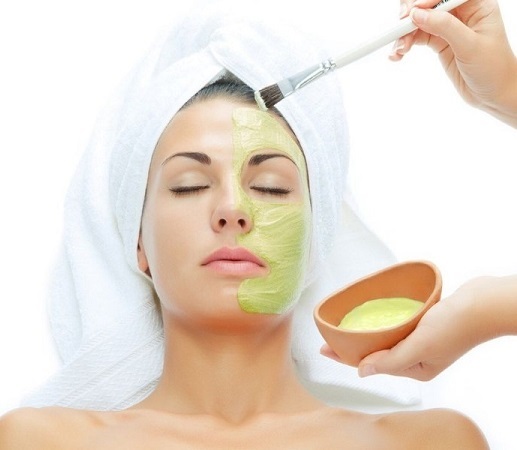 You need aloe gel, 1 tsp. of honey, 1 tsp. of milk, a few drops of rose water and a pinch of turmeric.
• Blend all the ingredients together until you get a smooth paste
• Apply on the skin and leave it for 20 minutes.
• Wash off with cold water for a smoother and softer skin.
For oily skin: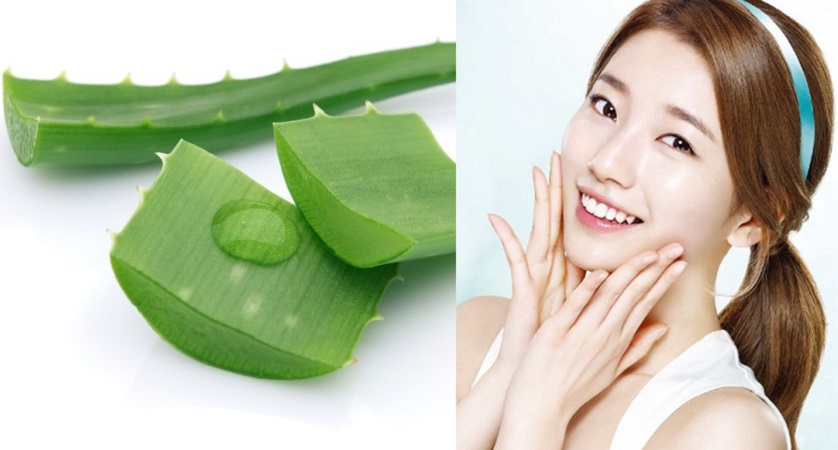 Oily skin is prone to acne breakouts.
• Grind walnuts to fine powder form and mix it with aloe gel and honey.
• Apply the paste on the skin and let it be for 15-20 minutes.
• Wash off with cold water for oil free, smooth and clear skin.
For sensitive skin: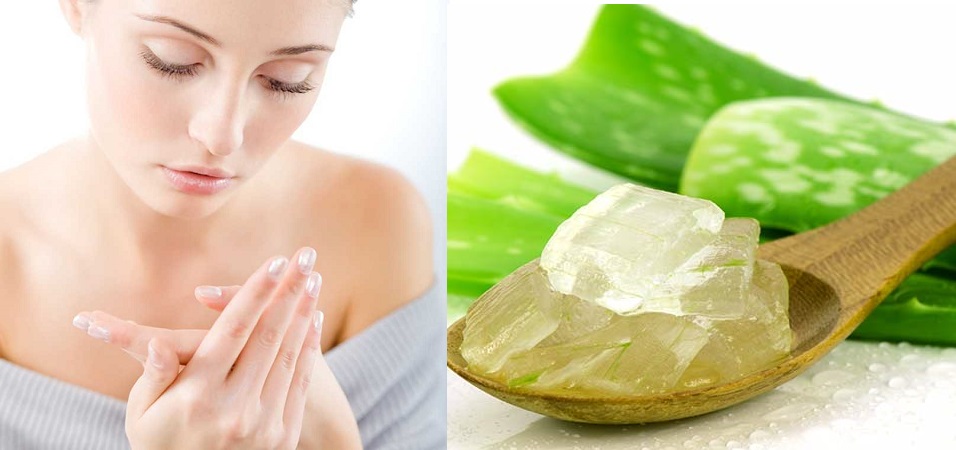 Take a cucumber, some yogurt, a few drops of rose oil and aloe vera gel.
• Blend them together in a mixer to make a smooth paste.
• Apply this mask on the skin and leave for 15-20 minutes.
• Wash off with cold water.
All these ingredients are very mild and have cooling properties, which not only cleanse the skin but also leave it glowing without any skin breakouts.
Body scrub: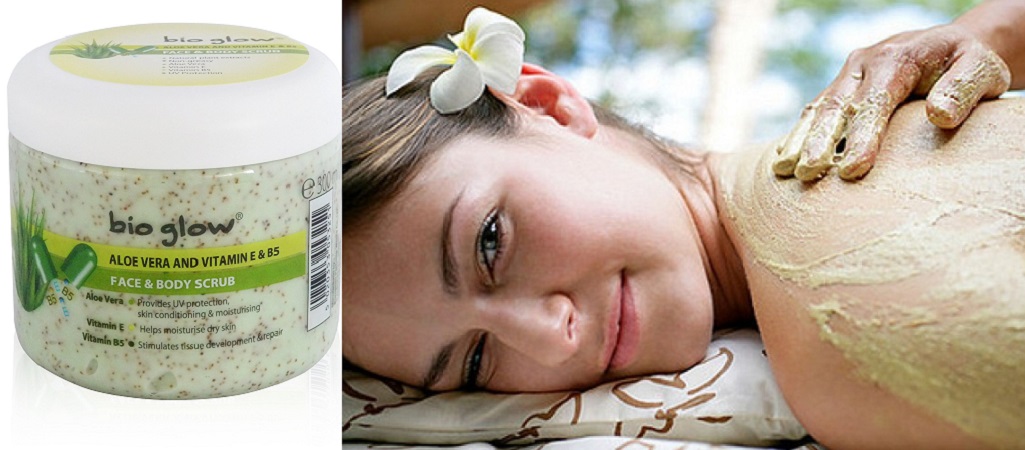 Blend together half a cup of aloe vera gel, 1 cup of granulated sugar and 2 tbsp. of lemon juice.
• Apply this scrub on the whole body and face.
• Let it sit for 15-20 minutes.
• Wash off with lukewarm to cold water.
The sugar will help scrub off dead skin, lemon will help in lightening the blemishes and tan and the aloe gel will help in cleansing and soothing the skin.
Aloe Vera Benefits for Hair
Curtails Hair fall: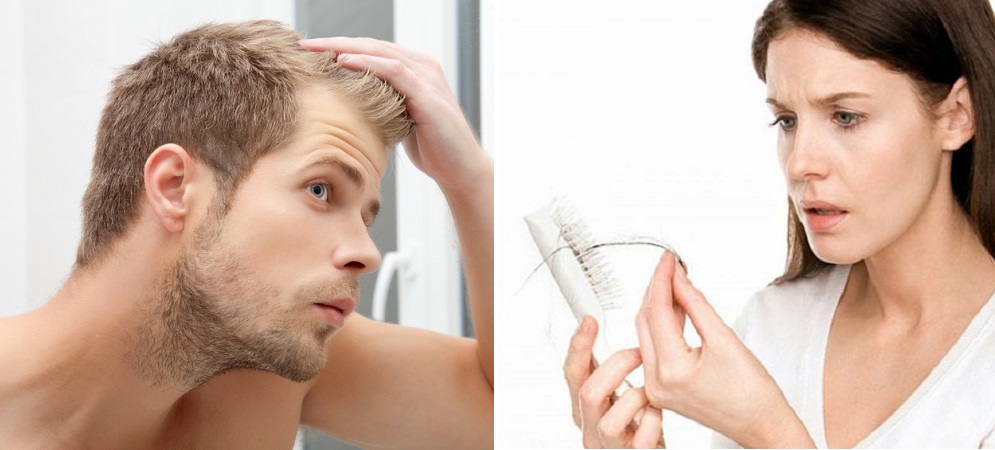 Aloe gel contains proteolytic enzymes, which strengthen the hair follicles and promote hair growth. Local application of gel on scalp helps in cleansing the scalp thus unclogging the pores and strengthening the hair follicles. All of these lead to stronger hair and reduced hair fall.
Promotes hair regrowth: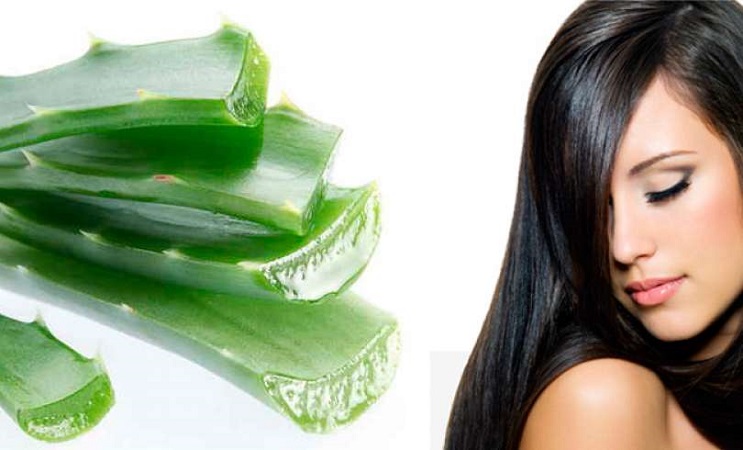 Proteolytic enzymes found in the gel help in inciting the dormant hair follicles which in turn prompt hair regrowth.
Adds shine to hair: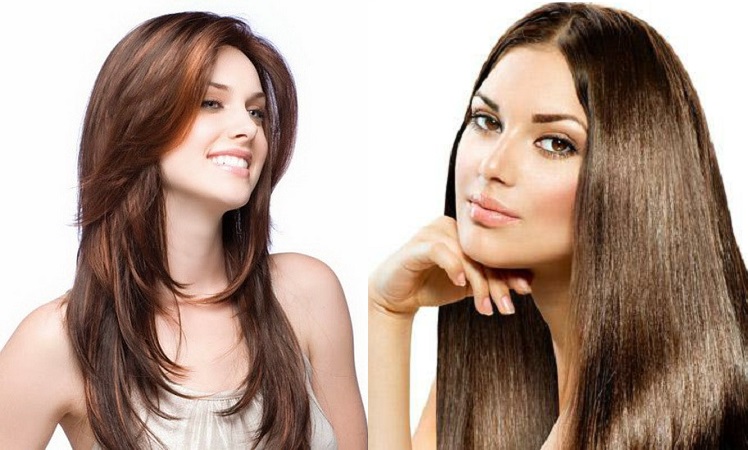 Aloe Vera is loaded with beneficial enzymes and compounds that not only protect the hair but regular application also adds a beautiful sheen and shine to your hair.
Helps treat dandruff: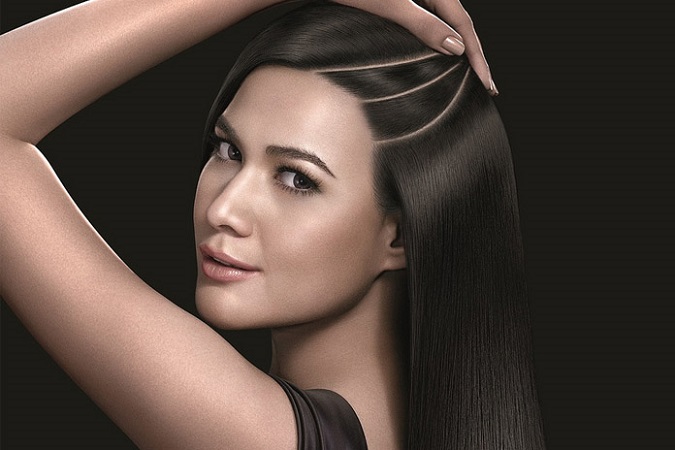 The anti fungal properties of aloe vera help in getting rid of dandruff when applied on the scalp regularly. It not only moisturizes the scalp and protects it from dryness; it also helps in healing and soothing any cuts or bruises arising out of itching scalp due to dandruff.
Reduces itchiness on scalp: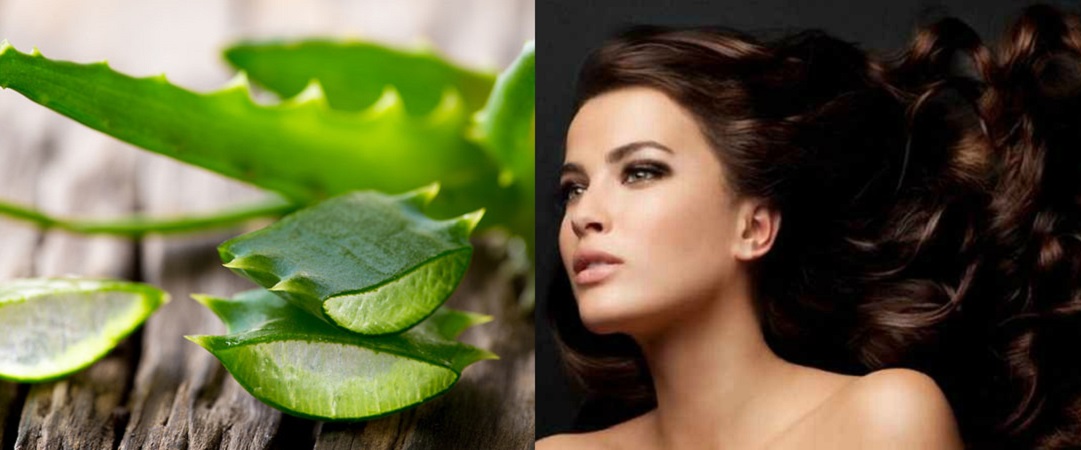 The strong anti-pruritic properties found in aloe vera help in soothing the itchiness and redness on the scalp caused due to dandruff, psoriasis or wounds.
Protects hair from side effects of pollution exposure: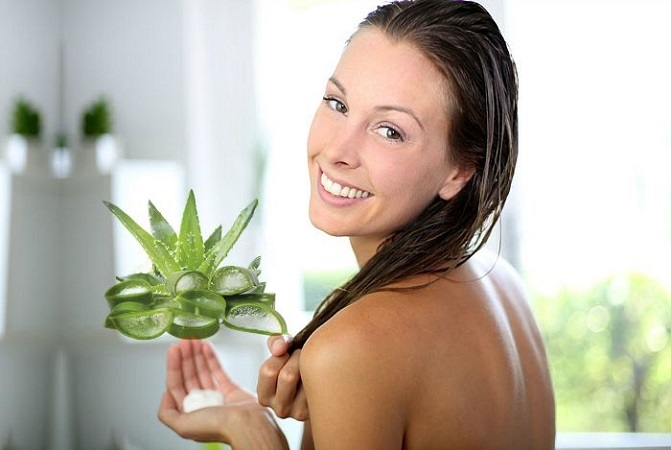 Aloe Vera gel when applied to the hair forms a protective coating on the strands of the hair, protecting them from the harmful effects of constant exposure to pollution, dust and sun. Due to high moisturizing content in the gel, the hair also stays hydrated, thus looking shiny and glossy at all times.
Restores pH balance in the hair: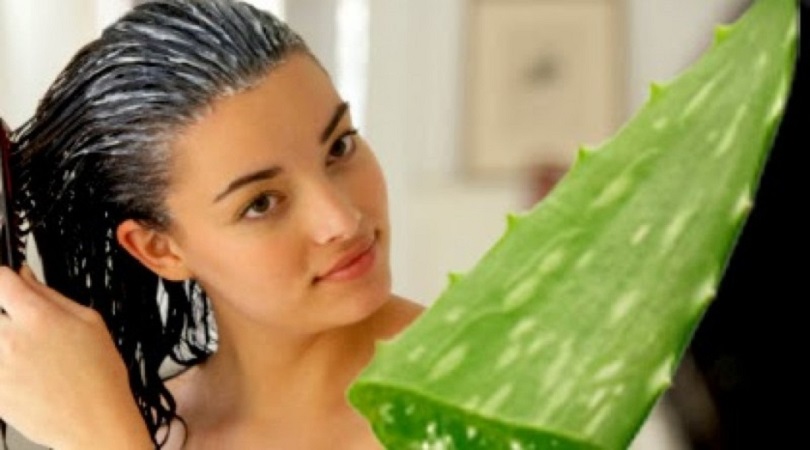 Constitution of aloe vera gel has the same amount of pH balance as the hair. Normal healthy hair has a pH balance of 4.4- 5.5. Because of this when applied on the hair and scalp it helps in restoring the pH balance of the hair, which if is increased then causes the hair to look dull, frizzy and lackluster.
Aloe Vera can be used in the following ways for treating damaged hair and maintaining healthy tresses:
Unlike other hair masks and packs, aloe gel should always be applied on clean scalp and hair. Best is to apply it immediately after hair wash, leave it in for a few minutes and then wash off with lukewarm to cold water.
Normal conditioner: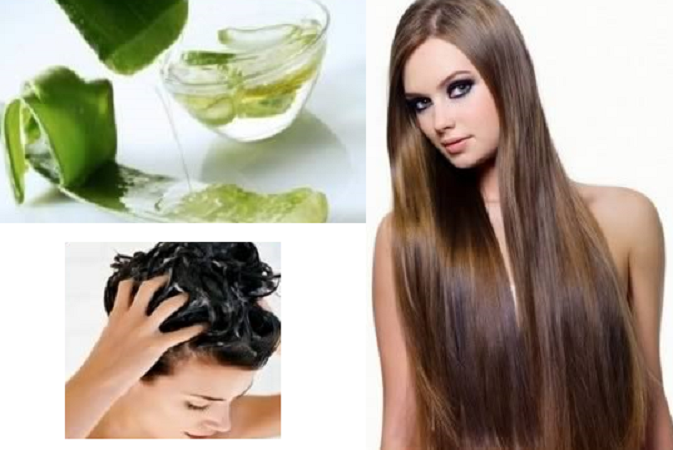 To extract aloe vera gel, simply cut a leaf from the aloe vera plant. Get rid of the sharp thorns on the side by cutting them. Cut open the leaf from the top to the bottom into two to expose the gel. Just use this exposed gel for application on hair and scalp. It will soothe and condition the hair as well as help in styling them. Leave in for a few minutes and then wash off with water.
The gel can both be removed and then applied or it can be applied directly from the sap itself.
Leave in conditioner: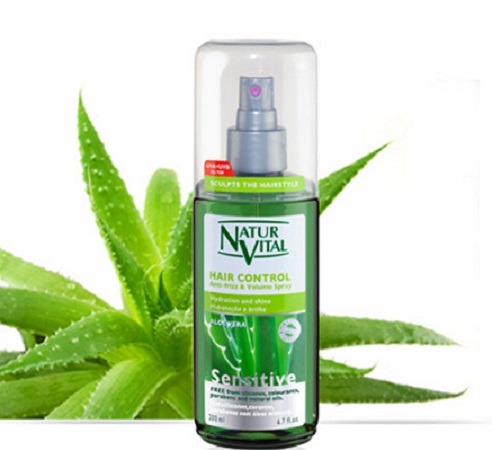 Leave-in conditioners are more beneficial for the hair as they constantly provide nourishment and protection. To make a leave-in conditioner using aloe Vera, follow the steps below:
• Take well pureed extract of aloe vera gel.
• Mix it with equal parts water in a spray bottle.
• Add in a few drops of essential oil.
• Mix all things thoroughly and just spray it in your hair and scalp after every hair wash.
Deep cleansing conditioner: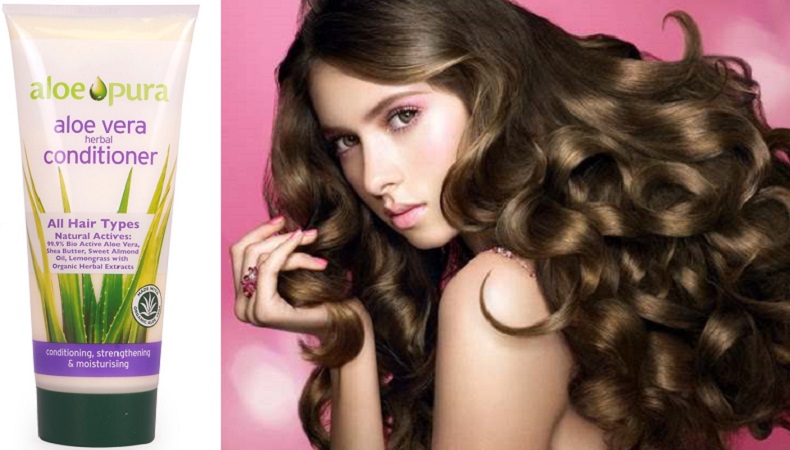 For damaged hair, it is better to deep condition the hair until they come to their normal form. To make a deep conditioning mask for the hair, follow the steps below:
• Take well-pureed aloe gel making sure there are no lumps in it.
• Mix it with equal amount of olive oil.
• Using a comb, apply this mixture in the hair and scalp covering the whole head.
• Leave for half an hour.
• Wash off with a mild shampoo with lukewarm to cold water.
To stop hair fall and promote hair growth aloe vera can be combined with the following ingredients to make hair masks:
Aloe vera gel and castor oil: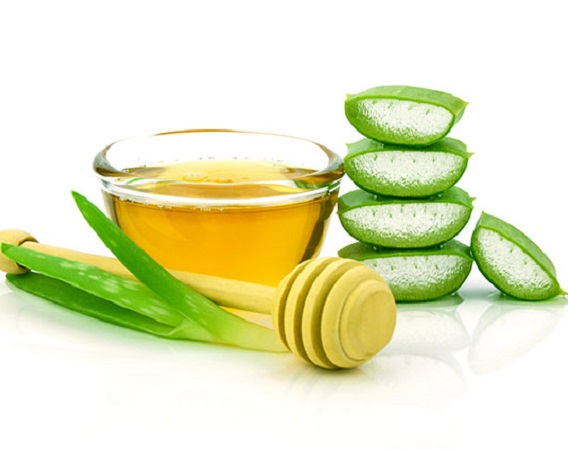 • Mix 1-cup aloe vera gel and with 2 tbsp. warm castor oil and 2tbsp. of fenugreek powder.
• Apply on scalp and hair, concentrating on the roots and leave it on the hair overnight.
• Cover the hair with a shower cap to avoid soiling the bedding.
• Next morning wash hair with a mild shampoo using lukewarm water.
Castor oil helps promote hair growth and aloe gel helps in cleansing the scalp of dandruff, opening up the pores and strengthening of hair follicles.
Dandruff treatment mask: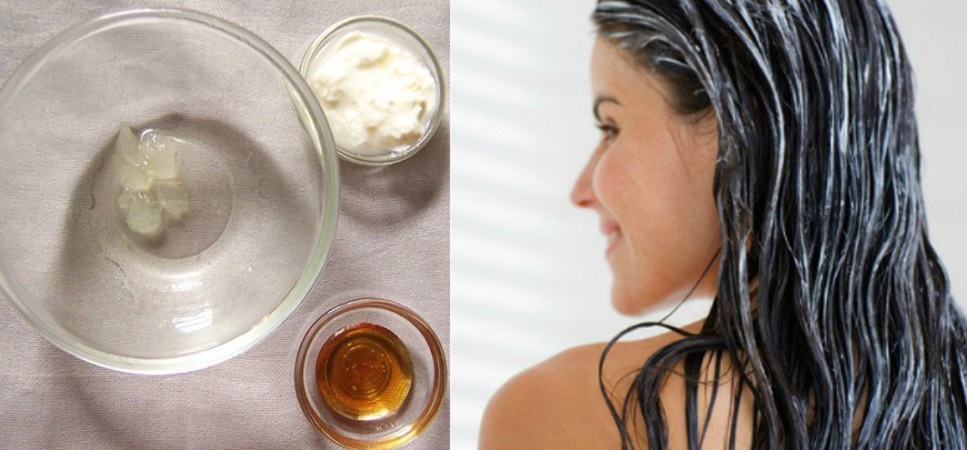 Take 2tbsp of aloe vera gel, 2tbsp of yogurt, and 1tbsp of honey and mix all of these ingredients in warm olive oil to make a hair mask.
• Massage this pack into the scalp and hair and let it rest on the hair for half an hour.
• Wash it off using a mild shampoo.
Using this mask once a week will help in getting rid of dandruff permanently.
Conclusion
Aloe Vera gel can be combined with any ingredient for beautiful skin and hair and is a powerhouse of natural properties even if used all by it self. It is not only healthy in topical use but internal ingestion of aloe vera is very beneficial for treating and preventing health issues like digestion and diabetes.
Making aloe vera a part of your daily routine will definitely leave you feeling and looking younger in mind and in years.